Tips of the Trade:
http://ecommerce.internet.com/
NEW! Spam, Spam, Go Away
Okay, this is an EC Tip basic: do not, under any circumstances, send unwanted email to people who have not requested it. There are many ways to collect email addresses and while unsolicited bulk email may seem like a good way to spread the word about your great ecommerce site, all it will do is ruin your reputation.
Instead of a blind mass emailing, send your email to individuals that you know are interested in what you have to say. Here are some ways your email can avoid the "delete" key:
Have them subscribe to your company newsletter (see Birds of a Feather...email together)
Ask previous customers if they would like additional information sent to them
Put a sign up box on your site so that they can request email when you are running special promotions or sales
Online consumers are becoming more annoyed with spam and more concerned about their privacy. If you don't believe it, here are a couple of articles that might convince you that spamming is a no-no:
Fireworks!
If you're looking to make a big bang on your Web site, Fireworks is the application to ignite it. This all-in-one web design and development solution incorporates all the major tools into one package, making the results explosive.
Fireworks is loaded with features that would normally encompass multiple applications making it more efficient for complete web site development. Without leaving the program you can: create and edit buttons, images and objects; produce animation; manage and control text; preview images; import Photoshop files; perform color corrections; utilize optimization tools; automate repetitive tasks and workflow; build a comprehensive Library for easy updates; and integrate with HTML and JavaScript.
An example of the visual enhancement Fireworks can add to your site can be found here: Diva International
New Ways to Pay
Your e-business should be equipped to handle check and credit card transactions but did you know there are other available ways to accept payment? The growth of ecommerce has created many developments in alternative payment solutions and utilizing them can keep you a step ahead of your competition.
The cost for utilizing any of the new payment systems varies. They may be free, charge a monthly fee, or a percentage of the transaction. Research them carefully by reading through this comprehensive listing: Reviews: Payment Solutions before deciding on whether adding a new payment system will enhance your e-business.
Don't add so many payment options that your site runs at diminished cost-efficiency. You may want to start with one of the more popular ones, such as PayPal, and monitor whether it is utilized frequently on your site before adding another.
Alternative payment solutions are going to continue to evolve and become more widely accepted so add them to your site before your competitor does.
---------------------------------------------------------------------------------------------------
There are sites that are designed to make a web shopping site grow. Point and click to create your store, manage your products, operate affiliate and membership programs. Anyone can build an online store with DXSHOP!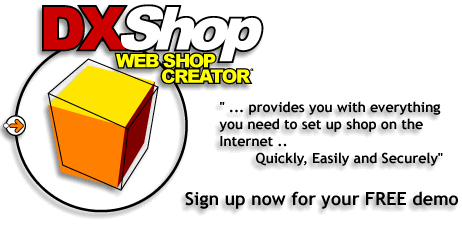 http://www.dxstorm.com/dxsites2/dxshop/?code=gotodxs


http://www.ebay.com/
10 Top Reasons
why your business should be in
eCommerce
1. Promote your business
Use the Internet to keep people informed of who you are and why they should do business with you. You can spend less time trying to generate new sales leads, on the Internet the leads can come to you.
2. Customer Service
Your customers can place their orders online, get quotes online and find out information about you, at a time and place convenient to them.
3. Information Distribution
You can release important information quicker and easier then ever before. You decide who, when and in what format the information should be sent.
4. Marketing
Many businesses use the Internet as an effective means of marketing. The Internet has made it easier for businesses to target specific markets according to age, interest and/or location.
5. Advertising
Traditional advertising like the Yellow Pages are expensive, static and limited. The Internet provides an excellent and effective advertising medium, offering sound, colour, pictures and video, and can be used to provide inexpensive and dynamic content.
6. Feedback/Questions
Many companies use the Internet to gather important customer feedback, and also use it to provide customers with answers to frequently asked questions.
7. Suppliers/Contacts
The Internet is not just about generating new sales leads. Use the Internet to get information on competitors, new suppliers, the latest news, as well as company and financial information.
8. Remote Access
Now your own staff can work from home, hotel, on the road or at a customers site. Your staff can access vital information, from wherever they are and at whatever time they need it. Improving efficiency and saving time and money.
9. Communication
Not only will the Internet improve communications with your customers, but your suppliers and staff will also benefits from the ability to communicate more effectively then ever before.
10. Additional Benefits
Reduced business overheads, through the reduction of phone, fax, courier and postal costs. Improved company morale, from less stress and more interesting and rewarding tasks. And by reducing the amount of paper you produce, our environment will benefit too!